{category.name}
Please note: Please call for availibility on our plants as they are seasonal. Thank you.
Manufacturer: Monrovia Nursery
This woody evergreen climbing vine produces very fragrant, tubular, creamy white flowers that age to yellow. New foliage emerges striking pink turning to clear white, then to variegated white and emerald green on older foliage. Makes a wonderful colorful groundcover or container plant.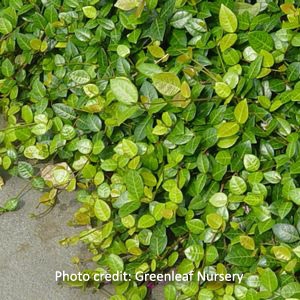 Manufacturer: Greenleaf Nursery Company
This vigorous growing evergreen has small dark green leaves and can climb 8 to 10 feet if given support. It also works great as a groundcover because it inhibits weed growth and controls erosion.
Manufacturer: Monrovia Nursery
Vigorous climbing vine that clings to surfaces by aerial rootlets. Slow-growing shrubby habit until established, then quite vigorous, producing long, fast-growing stems. Lush green foliage is blanketed with magnificent, white lacecap blooms in summer. Deciduous.
Contact Us Anytime
Feel free to contact us anytime with comments or questions. Our trained staff is ready and waiting to help you. Use this form to contact us and we'll be in touch soon.