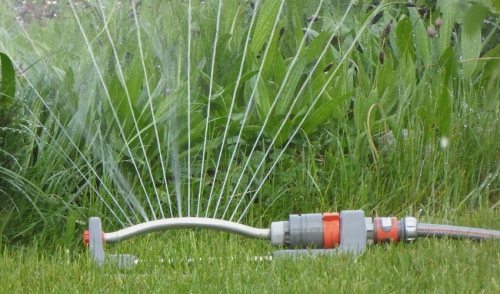 When your lawn is looking brown in the summer and you prefer that it didn't die, having good watering habits can usually ease your problem. However, many times during the hot weather there are periods of droughts and imposed water restrictions. With that in mind, here are the best ways to save water:

Time of day not to water
To know the time that it's best to water, you should know the times that you shouldn't first. Watering in the middle of the day is one of the worst times because the water will evaporate quickly and the water drops that do stay will act like magnifying glasses do on ants and burn your grass. Watering at night is also bad because the water doesn't have any time to burn off and creates fungus lawn diseases.

Only one time left
With the day and night eliminated, early morning is the logical choice to be the best time to water. With morning dew likely already on the lawn, low winds and low heat, watering in the early morning is the healthiest and most efficient thing you can do for your lawn.

Pre-mowing water care
An especially good time to water in the morning is the day before you plan on mowing your lawn. Doing this will help keep your lawn stronger and keeps the tips of the grass greener after you cut them down.